We are a participant in affiliate programs like the Amazon Services LLC Associates Program, an affiliate advertising program. We may be compensated by linking to these sites at no additional cost to you! Thanks for your support.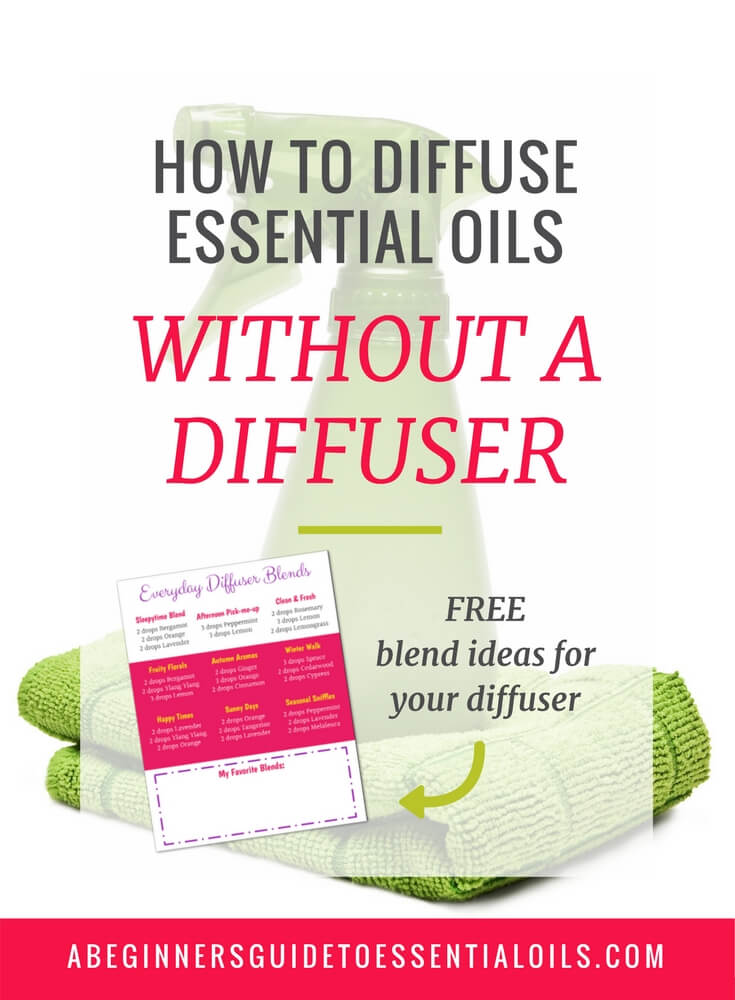 Diffusing essential oils is one of the easiest ways to use them — making it perfect for beginners!
And, while you could purchase an essential oil diffuser (believe me, they are very handy!) there are plenty of ways to diffuse without one.
It's time to learn how to diffuse essential oils without a diffuser.
How to diffuse essential oils without a diffuser
While I love my diffusers and use them every day, there are other ways you can receive the aromatic benefits of essential oils without purchasing a diffuser (but I think you should buy one – they are a fabulous thing to have!).
And sometimes you want to use your oils but work in a 'fragrance-free' office space. No worries — you can still use your oils!
Let's break our list down into a few categories for easy searching – diffusing at home (or in the car) or personal diffusing.
6 Ways to Diffuse Essential Oils at Home
… or in the car. Make your space smell fresh and clean with these simple ways of diffusing essential oils without a diffuser.
Make a Reed Diffuser
A simple, homemade reed diffuser is a great option for enjoying the fragrance of essential oils.
It's a great option for using some of those less expensive, lower quality oils that smell nice but don't have any therapeutic benefits.
Learn: How to Make a Reed Diffuser
Make Homemade Febreeze
I love making homemade air fresheners — it's very easy and versatile.
Simply mix your favorite oils with a bit of alcohol or witch hazel (to distribute it more evenly since oils don't mix well with water) in a spray bottle before filling it with distilled water.
Shake well before using and mist your home, furniture, or carpets for a fresh smell.
Cedar Chips in a Pretty Bowl
Another simple, decorative idea is to put a handful of cedar chips in a decorative bowl and add a few drops of your favorite essential oils.
This works great with pine cones too!
Quick Car Freshener
All you need for this quick refresh for a smelly car is a clothespin and cotton ball.
Drip a few drops of essential oil onto the cotton ball and use the clothespin to hold it in place on the fan vent.
Want something a bit more decorative? Here are some fun clothespin car diffuser ideas.
Or grab these vent-clip style diffusers – very pretty!
Make a Bathroom Spray
Have you seen those commercials for 'Poo-Pourri'? So funny!
Did you know you can make your own room spray' with just a few ingredients? It's really easy!
Learn: how to make your own essential oil bathroom spray
Another quick way to keep the bathroom smelling fresh – when you replace a toilet paper roll, add a few drops of oil to the cardboard tube. You'll get a waft of fragrance every time you grab some toilet paper.
Use a Humidifier or Vaporizer
Another good cold & flu option! When you are running a humidifier add a few drops of essential oil. One tip — don't use thick oils (those oils that take a long time to drip out of the bottle).
---
Related Articles:
How to Make an Essential Oil Blend
---
6 Ways to Personally Diffuse
Direct Inhalation
The simplest way to benefit from the fragrance of a good-quality oil is to open the bottle, hold it under your nose, and take a deep breath. Simple!
But remember – the more often you open the bottle the more the oils are exposed to oxygen and will oxidize (go bad).
Steam Inhalation
This method is great for cold & flu season – take that steam to the next level with a few drops of essential oils (eucalyptus works very well!).
Pour hot water into a bowl or fill a sink. Add a drop or two of oil before covering your head and the bowl with a towel. Breathe in deeply.
Use a Roll-On Blend
I LOVE keeping highly diluted 'perfume' essential oil blends in roll-on bottles for quick and easy use. I don't get carrier oil all over my hands or accidentally rub my eye before I've washed it off (been there!).
Grab your favorite roll-on and swipe your wrists or neck for a nice way to enjoy the fragrance of your oils. This works best for highly-diluted blends that are more like a perfume blend.
My favorite roll-on oils: Rocky Mountain
Use a Diffuser Necklace or Bracelet
If roll-on blends aren't your thing, you can get the same benefit from a bracelet or necklace.
Add a drop or two of your favorite oil to a leather bracelet, clay pendant, or the small felt pad that can be inserted into a pretty necklace.
How to make: a diffuser bracelet & necklace (with clay pendants)
Buy a Personal Inhaler
Personal inhalers are great options for those 'fragrance-free' office spaces. You can pull it out and use it whenever you want without disturbing those around you.
How to use one: drip about 10-15 drops of the essential oil on the cotton wick (10 drops for children) before inserting it into the inhaler and closing tightly. To use – place the inhaler close to the nose and breathe deeply. The scent lasts quite a long time and can be refreshed by adding a few drops of the same oil.
Read more: How to use an essential oil inhaler
Use a Favorite Stuffed Animal
This is the perfect way for kids to benefit from essential oils! Simply add a few drops to their favorite stuffed animals.
This works well for bedtime (with a few drops of Lavender) or when they have the sniffles (peppermint to the rescue!).
One caution: this idea works well for kids older than about three years old. Extra caution should be exercised with babies and toddlers.
Read more: Best Essential Oils for Babies
---
Using essential oils around the house
By keeping a spray bottle handy for around the house, wearing a diffuser necklace, or even putting some scented cedar chips in a closet.
You can use essential oils in a variety of ways. Your house will smell fresh and clean without the need for chemical-laden air fresheners with the added benefit that you are supporting your health and well-being.
There you have it – now you've learned how to diffuse essential oils without a diffuser!